Skiing in Heiligenblut: it couldn't be more convenient.
The Großglockner / Heiligenblut ski area is right on our doorstep. The equipment can also be rented or purchased in-house from Intersport Großglockner.
Ski area Großglockner / Heiligenblut - TOP OF AUSTRIA
Define freedom!
There's nothing quite like skiing amidst Austria's most breathtaking mountains. The 3798-metre-high Grossglockner dominates the spectacular scenery; the ski terrain is vast, rich in diversity and equipped with comfortable, modern lift facilities.
Whether you prefer groomed slopes or off-piste runs: Heiligenblut will make your heart beat faster.
Since the 1960s, Heiligenblut has been a paradise for skiing aficionados and winter sports enthusiasts. What sets it apart from other ski resorts is that the focus is not merely limited to state-of-the art facilities, but extends to a genuine love for nature and a desire to be as one with the wild.
It is an indescribable feeling, to dive into the immensity of a mountainscape overlooked by the Grossglockner. At the same time, our guests appreciate how straightforward it is to find your way around this snowcovered wonderland of ski-runs and pistes in the heart of the Hohe Tauern National Park.
Facts and figures
55 kilometres of piste, covering all levels of difficulty
12 modern, comfortable lift facilities
4 Ski Routes; 1500 hectares of Freeride Arena divided into 6 Freeride Sectors
Freeride Checkpoint at the Rossbach cableway station
Snow report
Slope information
Lifts in the ski area
The freeride arena and its sectors.
The freeride arena is unsecured, free ski room and is divided into sectors A to F.
SECTOR A - SCHARECK
The Schareck is the central mountain of the ski area and can be accessed from almost all sides.
SECTOR B - FALLBICHL
This sector is very snow reliable due to its height and exposure. The finest powder can still be found here in March.
SECTOR C - LIVESTOCK
Due to its height, this sector is very snow-sure and, if the avalanche situation allows it, it can be used throughout the winter.
SECTOR D - FLEISSALM
This sector is very diverse. While steep, alpine terrain predominates in the upper area, wide, gentle areas can be found below.
SECTOR E - TAUERNTAL
This is challenging terrain. Downhill runs in this sector require a lot of experience and good orientation.
Safety instructions!
The freeride sectors will be
not protected against avalanches
not marked
not controlled
not protected against alpine dangers
Every freerider is responsible for their own safety. No other person may be endangered by the behavior in the field. Every freerider is liable for his actions.
It is recommended that you carry safety equipment with you (you can borrow it from Intersport Großglockner). If there is a lack of knowledge or a lack of local knowledge, a ski guide is recommended.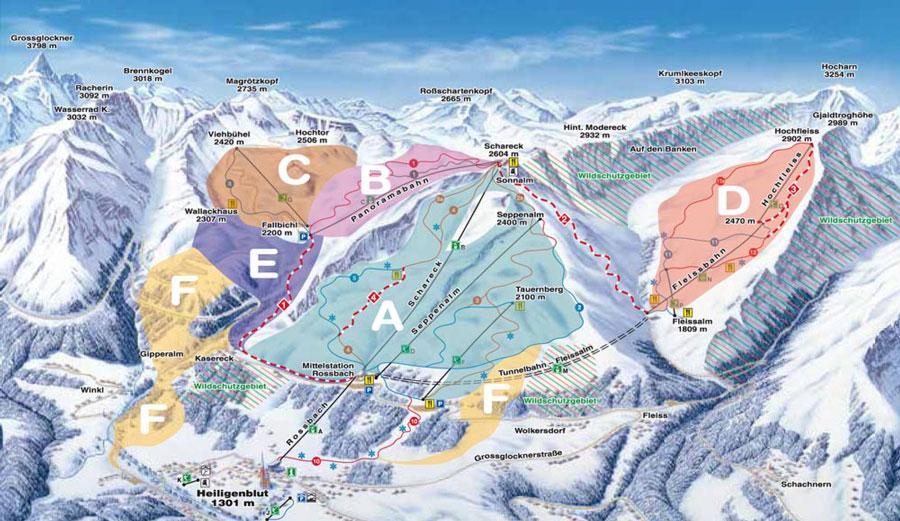 The National Park Lodge Grossglockner is your hotel in the Großglockner / Heiligenblut ski area. - Here you dream your adventure!